Burial Vaults are now a common requirement by cemeteries to protect the casket and ensure proper grounds maintenance. Today, burial vaults can be personalized to reflect the life of your loved one. We are partnered with Doric vaults to bring a complete line of quality burial vaults, both for caskets or cremation urns.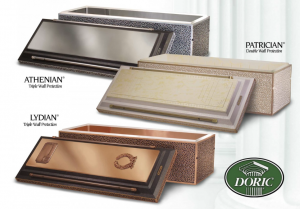 Vault Types
Doric offers three main vault types. Concrete vaults, classic metal vaults, and urn vaults. Concrete vaults are the most common of the three, and they have different finishes and levels of protection. Doric is dedicated to providing a vault that best fits your needs while honoring a loved one's memory and giving family members comfort and peace of mind.
Protection and Reinforcement of Vaults
Concrete vaults are made with a concrete cover, steel reinforcements, a concrete base, an inner liner, and a seal. The inner liner keeps the casket safe and out of the elements, while the outer concrete portion protects the casket and the burial environment. Inner liners can be hard plastic or made of materials like bronze, copper, or stainless steel. You can also choose to have a totally encased liner of bronze or stainless steel. Each liner option is made to protect the casket.

Personalization of Vaults
Burial vaults can be personalized to reflect the life of your loved one. There are options for you to choose from based on aesthetics, personal touches such as a nameplate or emblem, and a vinyl overlay with an image on the top of the vault. Aesthetically there are color options for you to choose as well as adding metal accents as a way to personalize the burial vault. Adding a vinyl overlay is a popular way to honor your loved one with an image that best reflects their life. There are many images to choose from that provide a beautiful and peaceful visual on the burial vault.
Honoring a loved one with a personalized burial vault is an option that many choose to do. If and when you're ready for this talk, we recommend discussing options with your local funeral home director.