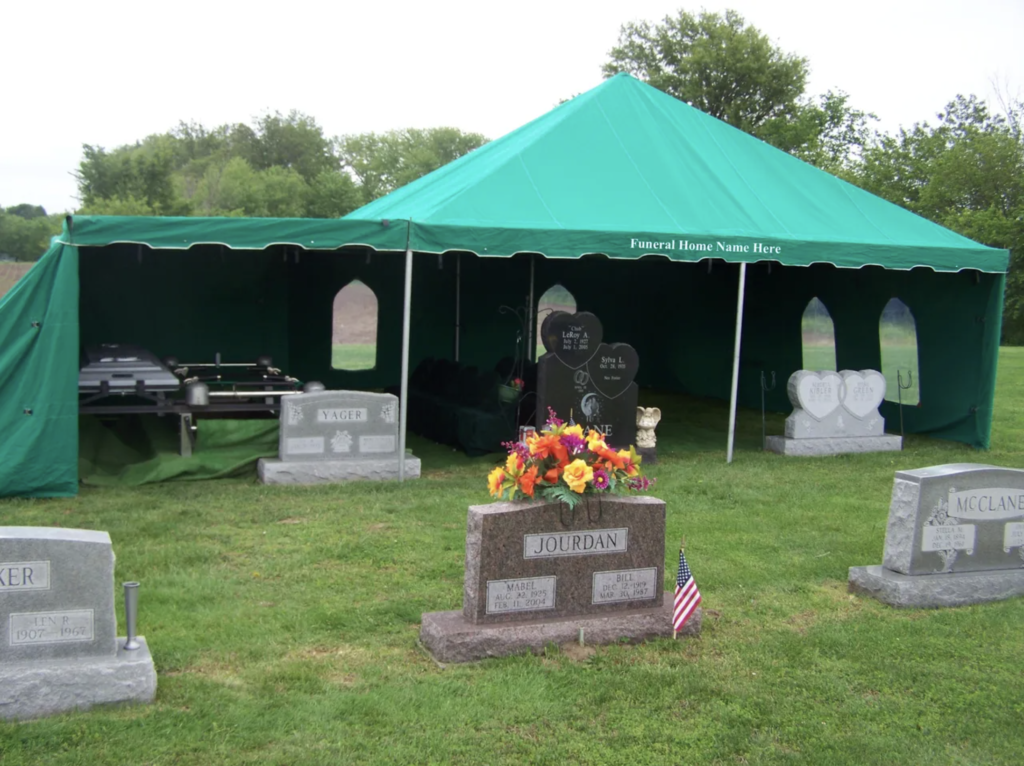 We get asked frequently about the things we do in the cemetery on the day of a service. Depending on the type of outer burial container and service requested, Rex Vault is in the cemetery for a minimum of five (5) hours.
Our employee is typically working by himself and his job description usually includes:
Checking the grave for correct dimensions.
View the area for limiting conditions. Eg: trees, fences, overhead lines, large monuments, freshly backfilled graves, elevations, ground conditions, distance from the road to the gravesite, etc.
Be aware of current weather conditions and forecasts.
Lay plank, when necessary, and steer vault trailer to end or side of the grave.
Place and level grave boards.
Suspend the outer burial container in the grave on vault placer cables.
Roll cover back over a dirt mound.
Place and adjust the lowering device over the container.
Set up a 15' x 20' tent. Add porches, side curtains, heat, etc. per instructions from the funeral home.
Lay down artificial grass.
Set up chairs with coverings.
Sweep, wipe, dust, brush down all equipment.
Touch up the outer container.
Place nameplate and emblem as requested.
Assist in the placement of flowers from the funeral home.
Assist parking of vehicles.
Assist placement of casket on lowering device.
Upon a signal from the funeral home, respectfully lower casketed body into the bottom of the container.
Remove lowering device.
Roll container cover over casket base of the container.
Seal cover and base as one unit and lower into the grave.
Assist grave digger as needed.
Disassemble and neatly load everything back onto the truck.
Hook the trailer to the back of the truck and head home.
Job complete.